New marine power sites leased out by Crown Estate, Source:BBC News
October 12, 2011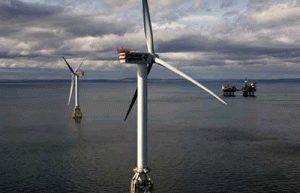 The Crown Estate has announced it has leased out a further Eight areas of seabed for wave and tidal projects. This now takes the total number of UK projects to more than 30.
The new sites are from the second application window for projects in connection with the Scottish government's Saltire Prize.
They range from small technology test schemes for short-term installation to commercial projects with up to 30MW potential generating capacity.
The new sites are;
WAVE
Bernera – Pelamis Wave Power Limited
Moray Firth – AWS Ocean Energy Limited
TIDAL STREAM
West Islay – Marine Energy Limited
Mull of Kintyre – Nautricity Limited
Bluemull Sound – Nova Innovation Limited
Sanda Sound – Oceanflow Development Limited
Wales, Skerries – Marine Current Turbines Limited
Northern Ireland, Strangford Lough – Minesto UK Limited
Scottish Energy Minister Fergus Ewing said: "These new projects around the north and west of Scotland bring the total number of planned developments in Scotland to 25, including 1.6GW in the Pentland Firth and Orkney waters strategic area.
"Today's announcement further reinforces the growing momentum and appetite for investment in marine renewables and demonstrates the breadth of activity taking place around Scotland's coast."
Rob Hastings, director of the marine estate for the Crown Estate, said: "Our announcement is a further indication of how UK companies are taking strides forwards towards commercial deployment of wave and tidal energy, particularly in Scotland.
"In the last six months we have continued to see strong interest in wave and tidal leases."….More Details
Related Posts