Energy and Climate Change Select Committee asks all the right questions:Source Aquamarine Power
November 3, 2011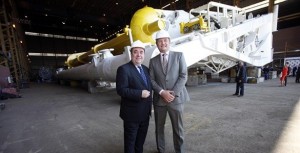 A well-informed group of MPs was asking all the right questions yesterday as the Energy and Climate Change Select Committee called for oral evidence in its inquiry into the future of marine renewables in the UK.
The committee kicked off their inquiry earlier this year, with the goal of examining the UK Government's policies and approach to marine energy and questioning whether the coalition's ocean energy plans are doing all they can.
Ably chaired by veteran Tory MP Tim Yeo, the evidence session, held in the Palace of Westminster, was an opportunity for the committee of interested MPs to quiz selected industry representatives on what they thought, based on written evidence submitted in the summer.
Dressed in best bib and tucker, and sat in the wood-panelled committee room beneath portraits of long-dead mutton chop-whiskered grandees,  some of the industry's finest, including Aquamarine Power, E.ON, RenewableUK, and Meygen were fired a thick and fast barrage of well-targeted marine energy posers.
Were 5 ROCs a good thing? Yes they most certainly were.
Did the industry welcome the £20 million DECC Marine Energy Array Demonstrator fund (MEAD)? Yes we did. More would have……..Link to article
Related Posts