Caithness Companies Collaborate Under the Firth
August 1, 2012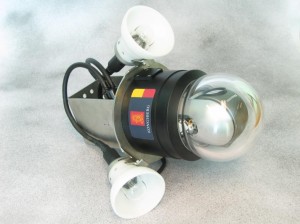 Three Caithness companies, Kongsberg Maritime, EnergyHunt and Marine5 have combined skills, strengths and experience to develop a drop down camera technology and methodology for use in high tidal stream areas in which the marine renewable industry typically operates.  Bill Baxter of Kongsberg Maritime emphasised 'This was an interesting project which happened to coincide with one of Kongsberg Maritime's strategic objectives to become a major player in the Renewable Energy Market.  Along with a number of other initiatives in Environmental Monitoring, this camera system will reduce operational expenses and provide increased accessibility to key decision makers.'
The Internet capable pan/tilt/zoom camera is configured for  submersion to at least 100m and is able to be streamed live to the clients desktop, where footage can be watched, real-time whilst surveys are undertaken, further reducing mobilisation costs and risks.  'This development is an excellent example of local collaboration, the knowledge and expertise that has been gained from real hands on experience is being channelled  to produce a new product that is now ready to be marketed and supported by local companies, we're ready for business' said William McGillivray, Managing Director of Marine5.
The camera was first shown to the industry at All Energy and created significant interest from potential clients. The team are now testing the device in various tidal locations utilising the partner companies small work boats and has to date proven the methodology in up to 6½ knots of tide, with quiet confidence in stretching this capability further.  Richard Hunt of EnergyHunt  wasn't surprised at the level of interest shown 'Some of my clients kept a watchful eye on our collaboration and it was the first time they could physically touch and view the new camera system, they were very impressed and keen to view the underwater footage. The Pentland Firth Tidal races are very challenging to work in, the methodology we've developed will extend the 'operating window' which means longer underwater recording time. '
Enquiries have so far been very positive with offshore wind, wave and tidal project developers and associated support companies looking to utilise both camera and methodology for benthic studies, subsea cable and routing inspections, device and connector inspections and scour monitoring.
The camera was also recently demonstrated to the public at Wick's Jubilee Harbourfest on Kongsberg's stand with great interest from the visiting public and amazement at the number of fish and crab living in the harbour itself.
Related Posts