SCOTLAND'S first commercial-scale tidal turbine has been connected to the electricity grid off the Orkney coast and begun generating power
August 11, 2011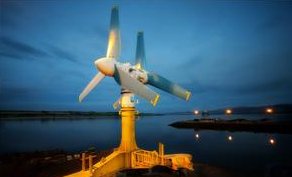 The AR1000 Atlantis Resources 1MW device will generate enough electricity annually to power about 1,000 homes.  It stands 70 feet off the seabed and weighs 1,500 tonnes.
The company is hoping to install hundreds of the machines in the turbulent waters of the Pentland Firth off Scotland's north coast within the next decade.
The machine was installed into the sea at the European Marine Energy Centre (EMEC) off Orkney and will undergo a further two years of tests. Atlantis chief executive Tim Cornelius said that he was proud of the achievement of the team that successfully installed the machine.
"By connecting a 1MW single rotor device in Scottish waters to the national grid, they have achieved something that has never been done before," he said.
He added that he was "very confident" the turbine would work effectively as it is monitored over the next two years. We will measure success by showing that we can match theoretical output with actual output," he said.
The AR1000 device was built using expertise from across the UK, with the parts being constructed in Invergordon, Poole, Newcastle,  Scunthorpe and Bedford. Leask Marine in Orkney provided Professional divers.
Atlantis Resources is part of MeyGen Ltd, which has a lease from the Crown Estate to develop part of the seabed in the Pentland Firth, known as the Inner Sound tidal site , between the island of Stroma and the mainland. Meygen aims to build up to 400 of the turbines providing enough electricity for about 400,000 homes.
Related Posts