Progress made with Voith Hydro Monopile Foundation Installation
August 11, 2011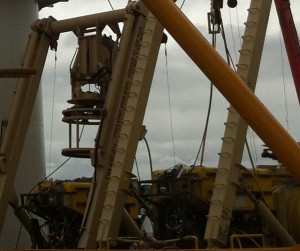 Voith Hydro Ocean Current Technologies is moving forward with the development of  a full-scale demonstration of its Voith HyTide tidal energy converter at the Falls of Warness, which is due to be revealed next year.
Installation works of the monopile foundation commenced on July 20th, using the off-shore construction vessel North Sea Giant incorporating a seabed drilling rig.
The monopile will provide the support for the installation of the turbine during August/September 2012. The monopile, 13m in height above the seabed, will be located on the seabed within the EMEC tidal testing site at Falls of Warness.
As of yet it has not been confirmed that the installation of the monopile foundation has been completed or was successful. However it is understood that a few problems have cropped up during the preparatory works for the installation.
Irrespective of this, Voith Hydro will take from this valuable information learned and continue to enhance their knowledge and experience, allowing installation costs to be driven down.
This highlights but a fraction of the challenges of installing and operating devices in the Pentland Firth and Orkney Waters. Challenges that the local businesses are prepared to offer assistance with their wealth of local knowledge and experience.
Related Posts