Moray Offshore Renewables Ltd Awards Contract for "First Steel in the Sea" for Offshore Wind Project
July 26, 2011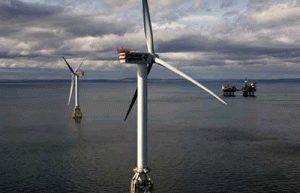 Edinburgh, UK, July 26, 2011.
Moray Offshore Renewables Ltd. ("MORL"), the joint venture company owned by EDP Renewables and Repsol, today awarded a historic contract to Gaoh Energy Ltd to install the first permanent offshore infrastructure to enable the development of offshore wind energy in the outer Moray Firth.
Gaoh Energy Ltd are to install an offshore meteorological mast in the outer Moray Firth, to allow accurate recording of environmental data such as wind-speed, barometric pressure and temperature. This will enable the design and operation of generation equipment to maximise the natural energy which can be harnessed from the wind in the outer Moray Firth and sent on to homes and businesses across Scotland and the UK.
After installation, and subject to conclusion of contracts, it is expected that the met mast will provide long-term local employment, as it will be maintained by Gaoh Energy Ltd.'s nominated sub-contractor, EnergyHunt, who are based in Wick.
Moray Offshore Renewables Project Director, Dan Finch said:
"After 18 months of hard work, we have taken this project from first concept to first contract for steel in the sea. The offshore met mast will give us vital information about the wind and weather far distant from shore. We will use this to design and operate generating equipment to harness the maximum natural energy from the wind in the Outer Moray Firth, and send this on to as many as a million households across the country".
Gaoh Energy Chief Executive, Paul Carter said:
"We are excited to be involved in this Round 3 initiative early in its development. This met mast not only signifies a major step in this particular project's development but also for the wider industry as we see Round 3 coming out of the boardroom and into reality. We can be confident that with the wealth of experience in the UK the challenge of mass deployment involved in Round 3 will be met and Gaoh Energy are proud to be at the forefront".
Related Posts