A rising tide?
August 30, 2011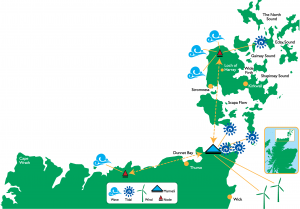 From The Economist
A remote town hopes to become a clean-energy hub
EVEN on a sunny day the rugged coastline of Caithness—with its small towns huddled round little harbours, looking 15 miles across the Pentland Firth to the dark cliffs of Orkney—feels as though it is on the edge of the world. The remoteness of this most northerly part of the British mainland was why, in 1955, the government sited an experimental nuclear reactor at Dounreay, a few miles from Thurso. Yet even though the reactor is being decommissioned and its 1,900 associated jobs are dwindling, locals are upbeat—unlike those in most of recession-hit Britain.
"There's a chance for us to become the centre of a global industry," says Calum Davidson, a director of Highlands and Islands Enterprise, an economic-development agency. Three big British utilities (ScottishPower, Scottish and Southern Energy, and E.ON UK), along with some smaller firms, have bought licences from the Crown Estate, a government agency, letting them develop 1.6 gigawatts of electricity-generating capacity by 2020 from the waves and tides in the Pentland Firth and off Orkney—projects that are expected to cost about £6 billion ($9.8 billion).
They have been attracted by the geography that channels Atlantic currents into the narrow strait off Caithness, producing strong tidal flows and big waves. This potential……………..
Read more
Related Posts